Volunteering
The Senior Center could not run without the countless hours devoted to it by our volunteers.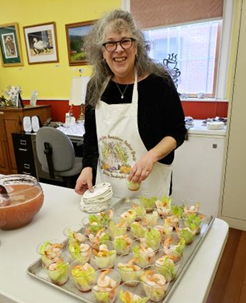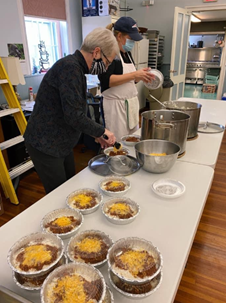 We match the interests and skills of volunteers with the needs of our organization. Volunteering is a good way to make new friends and a great way to make a difference in your community. Volunteering also enables you to pass on your skills and knowledge while helping to make a difference in people's lives.
We encourage you to become a part of our volunteer family!
---
How to Apply
Download, print and fill out an application. Then call the Senior Center Activities Coordinator or Director for an interview to talk about interests, needs, time, responsibilities, etc. If you're a match, you'll be asked to fill out a name-based Criminal Offender Record Information (CORI), and someone from the Senior Center staff will check your references. You'll take part in training program for the position you'll be filling.
---
Volunteer Positions
Administrative: Assist the Senior Center Director with a variety of clerical office supports which may include grant writing, entering computer data, proofreading, counting money and preparing deposits and assisting other Center staff. Flexible hours per week or month.
Receptionist: Greeting people coming to the Center, answering the phone and taking messages, recording calls, answer questions for people, assist staff people as needed, assist with events as needed, keep activity sheets updated, monitor restroom supplies. Weekly scheduled 4 or more hours.
Courtesy: Assist Center Staff with events, activities and general operation of site. On call as needed.
Neighbor to Neighbor: Develop and support long-term relationships with neighbors which may include friendly visits, chores, yard and garden work, shopping, running errands, being available to call on elderly neighbor to lend a hand or an ear. Flexible hours per week.
Driver: Provide door-to-door transportation for elders to medical appointments, shopping, errands and social activities. Must have your own registered/insured car, current driver's license, and be flexible in time commitments. Mileage stipend available. On call or as needed.
Handy Man/Home Repair: Make minor repairs in the homes of elders who request some assistance. No special license required, but person needs to have a variety of skills and able to provide a variety of services. Bring your own tools if needed. Homeowner pays for materials needed. On call as needed.
Public Relations: Create publicity materials, assist with social media effort, deliver and post newsletters, flyers and posters.
Program/Activity Leader: Assist Center staff with presenting/leading a program or activity. Occasional or ongoing.
Local Council on Aging Member: Each town has a Council on Aging. For more information on how to get involved call the Senior Center Director, Juli Moreno at 625-2502.
Senior Center Foundation, Inc. Board: Our 501 c (3) organization is dedicated to supporting the mission of the Senior Center. The Foundation provides support for programs and supplies by conducting an annual appeal and has created a Capital Fund to accept funds for the Senior Center Expansion Project. Please call Margaret Payne at the Senior Center if interested in contributing to or serving with the Senior Center Foundation's efforts.